In this post i will introduce best  Number 5 jQuery Lighbox box plugins . You can use these plugins very easily in your Project
#1 Magnific Popup
Magnific Popup is a responsive lightbox & dialog script with focus on performance and providing best experience for user with any device.
Features
Single image lightbox
Lightbox gallery
Zoom-gallery
Popup with video or map
Dialog with CSS animation
Popup with form
Ajax popup
Modal popup
#2 prettyPhoto
prettyPhoto is a jQuery lightbox clone. Not only does it support images, it also support for videos, flash, YouTube, iframes and ajax. It's a full blown media lightbox.It is very easy to setup, yet very flexible if you want to customize it a bit. Plus the script is compatible in every major browser, even IE6.
It also comes with useful APIs so prettyPhoto can be launched from nearly anywhere (yes, that includes Flash)!
#3 VenoBox
Just another responsive jQuery Lightbox plugin, suitable for images, inline contents, iFrames, Google-Maps, Ajax requests, Vimeo and YouTube videos.he big difference compared to many others modal-window plugins is that VenoBox calculates the max width of the image displayed and preserves its height if is taller than the window
(so in small devices you can scroll down the content, avoiding vertical microscopic resized images).
#4 ColorBox
ColorBox is a Lightweight Customizable Lightbox Plugin built with jQuery that allows you to display elements with the lightbox effect on the page. It supports photos, grouping, slideshow, ajax, inline, and iframed content.
#5 Avgrund Modal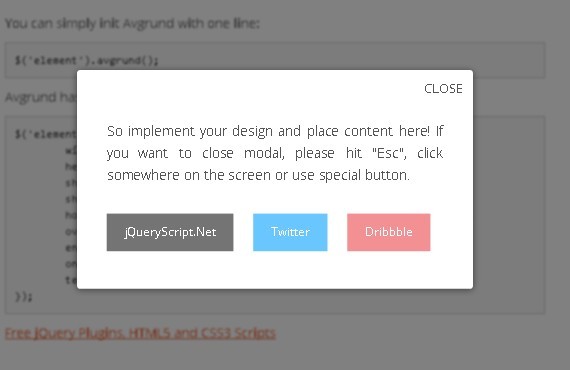 Avgrund Modal is a jQuery Modal Plugin for adding beautiful Modal Boxes & Popups to your website. If you want to close modal, please hit "Esc", click somewhere on the screen or use special button.
2825